Globalization and ever closer relations between customers and suppliers in countries very far from each other, has developed more and more the need for fast shipments of their goods.
The airfreight fits perfectly with such a need. For this reason, the air service has emerged as a new market that completes the range of service provided by the international freight forwarder.
The RO.RO.Tranship s.r.l., through a network of agencies located in almost every airport in the world, offers a fast and effective service that meets customer needs.
We have the ability to track the shipment from origin to destination, offering the best solution, tailored to the needs of the customer.
In addition to the pure air shipment, we can also perform the following further services: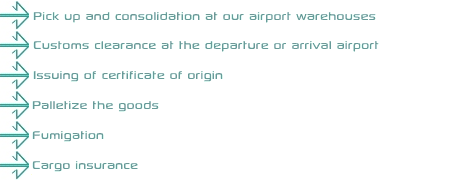 Our expertise in project cargo management allows us to provide expert support to those customers who want to use the air service for parcels of remarkable size.
Starting from the simple study of service / consulting, needed to understand the possible issues related to the shipment of exceptional packages, we offer the customer the best solution in terms of costs and delivery times.
Whether it is a cardboard box or a heavy and bulky unit, we are always happy to let your goods fly!